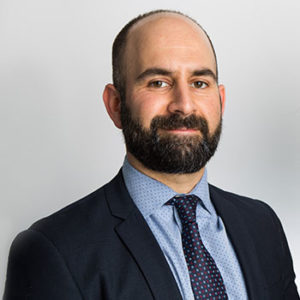 Email: edward@vterzianlaw.com
Also named a Top Attorney of 2014, 2015 and 2016 by Pasadena Magazine and a Rising Star by Super Lawyers for those same years, Edward specializes in Business and Real Estate Law and Trust and Probate Litigation. He brings with him seven years of experience as a principal at one of the largest law firms in Glendale, CA.
Mr. Terzian earned his bachelor's degree from UCLA in 2002, where he graduated summa cum laude and earned membership into the Phi Beta Kappa and Golden Key Honor Societies. He was also recognized by the National Society of Collegiate Scholars for his academic achievements. Throughout his time at UCLA, Mr. Terzian assisted in running his family small business.
After graduating from UCLA, Mr. Terzian attended Loyola Law School, where he earned High Honors awards in several courses, including torts and evidence. Mr. Terzian was also on the Dean's List throughout his tenure at Loyola and was invited for entry into the St. Thomas More Honor Society. However, his proudest accomplishment in law school is having met Vanessa and eventually marrying her!
Mr. Terzian combines his unique blend of expertise in real estate and business law with the practical experience of running a small business. This gives him an understanding of all of the aspects individuals and businesses face, including both the legal and non-legal issues.
His legal background provides him with the necessary knowledge to successfully represent clients in Trust and Probate Litigation matters, which often involve legal complexities in the areas of both business and real estate law. Edward is the head of the Trust Litigation Department at Terzian Law Partners and was admitted to the State Bar of California and the United States Federal Court, Central District of California, in 2006.
Edward's Areas of Practice:
Probate and Trust Litigation
Trust and Will Challenges
Trustee Removal
Breach of Fiduciary Duty
Accounting
Beneficiary Claims
Estate Mismanagement
Probate
Business and Commercial Transactions/Litigation
Entity Formation
Corporate Governance
Partnership Disputes
Business Transactions
Business Litigation
Real Estate Transactions/Litigation
Real Estate Acquisitions
Landlord/Tenant
Real Estate Disputes